The Nature Center takes care of nearly 40 non-releasable animals native to the American River system. These animals cannot be returned to their native habitat. In many cases they have been injured, orphaned or grown too accustomed to people.
We have incredible four raptors:
All these birds are tamed to the glove and act as animal ambassadors, visiting schools, taking part in programs and helping in our educational efforts.
In addition, we have songbirds and numerous reptiles and amphibians on display in the lobby and Discovery Room, including:
Tango the Western Tanager
Clem the Western Pond Turtle
Natoma the Northern Pacific Rattlesnake
Gilbert the Skilton's Skink
and several Gopher and King Snakes, Tree Frogs, and Toads.
PLEASE NOTE:
Although we house resident animals, the Nature Center is NOT a licensed animal rescue facility and we cannot accept animals needing care. If you find an injured animal, we are willing to help you find the right rehabilitation organization - please call us during our business hours: (916) 489-4918.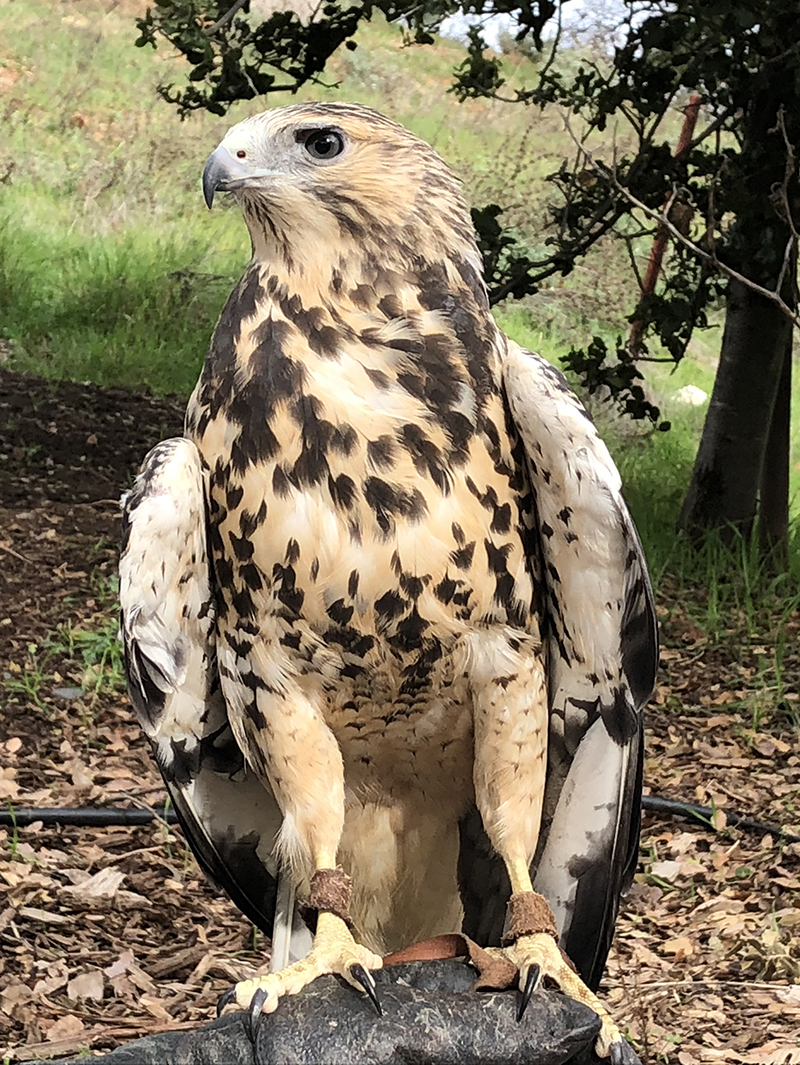 Orion, the Swainson's Hawk
Orion was dropped off at the UC Davis Raptor Center with a broken wing in 2017. Although his injuries healed partially, there were some lingering issues that would prevent him from completing the long migration down to Argentina. It was also discovered that Orion was an imprint, or lacking a natural fear of humans, and therefore dependent on people for his survival. However, this resulted in an easier transition for Orion to become one of our amazing animal ambassadors.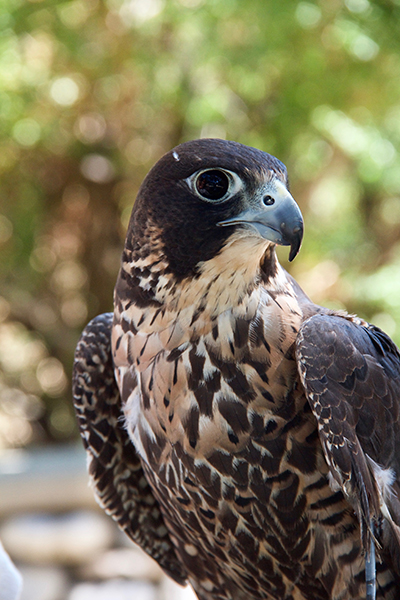 Wek'-Wek, Peregrine Falcon
Wek'-wek came to the Effie Yeaw Nature Center in 2017 from Lake Tahoe Wildlife Care. She was brought in with injuries after being shot in both wings. Because of these injuries, Wek-Wek's ability to fly was permanently impaired, making her non-releasable. With permission from the U.S. Fish & Wildlife Service, Lake Tahoe Wildlife Care transferred her to the Nature Center. Wek'-Wek is a very quick learner and has already become comfortable on the glove and around people. She is quickly becoming one of our most charming animal ambassadors. Wek'-wek still has her juvenile plumage. Eventually she will be blue-gray above with barred underparts.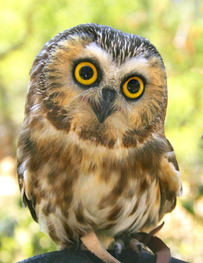 Sophia, the Northern Saw-whet Owl
Sophia was living life in the wild until the fall of 2007, when she was hit by a truck. The truck driver got out and was shocked to find the little owl on the front of his truck! He managed to get the bird disentangled from the metal and took her to the California Foundation for Birds of Prey. The raptor specialists got the little owl healed up as well as possible, but the vet did not think that she would be able to fly and hunt well enough to survive in the wild. She came to live at the Effie Yeaw Nature Center in July of 2008. Sophia is a very placid bird who surprises visitors with her tiny size, beautiful markings and bright gold eyes.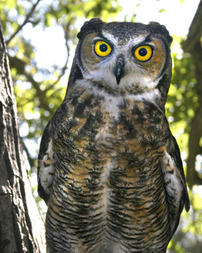 Echo, the Great Horned Owl
Echo was found during the fall of 2011 in the South Lake Tahoe area making begging calls in the night. A volunteer rehabilitator heard the bird and called to it. Echo flew right down to the rehabilitator and readily ate the food that was offered. This behavior unfortunately meant that Echo was imprinted or raised by humans as a young owl and did not know how to hunt for food. The Lake Tahoe Wildlife Care contacted the Effie Yeaw Nature Center about Echo and we were happy to take her. Echo is calm around people and has been trained for careful handling by Nature Center staff and an important role as a full-fledged educational ambassador.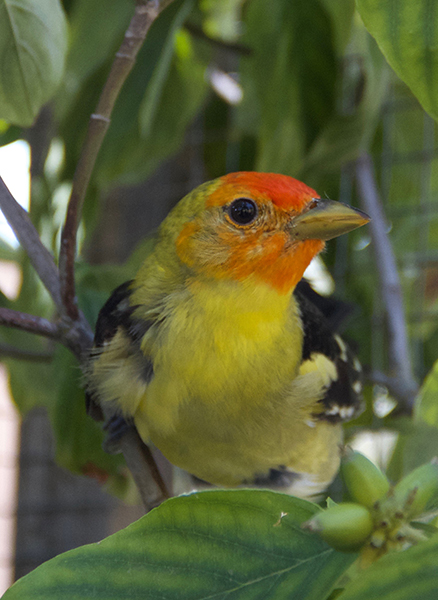 Tango, the Western Tanager
As a fledgling in 2015, Tango was found on the ground with a broken wing. He was taken in by a rehabilitation specialist who determined him to be un-releasable. During his time at rehab, he grew to be comfortable around people. In 2017 his rehab partner could no longer care for him and he was donated to Effie Yeaw Nature Center to become the first Songbird in our animal ambassador family. We asked the community for input on what to name this colorful and energetic addition - and the name "Tango" was the winner! A curious bird, Tango enjoys visitors and you can usually find him in our lobby (or on our back porch on nice days) entertaining us all with his cheerful songs.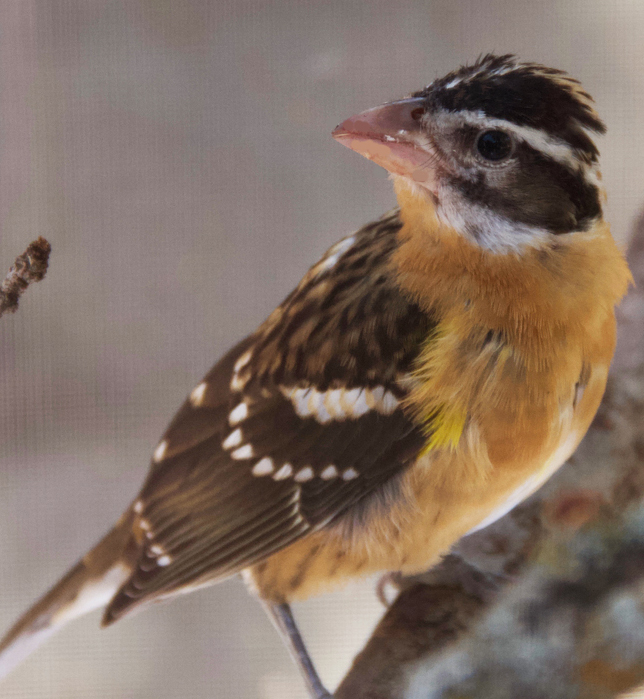 Poppy, Black-headed Grosbeak
Poppy was reportedly caught by a Pygmy owl. She suffered a fractured wing that didn't heal properly. Although treated by Wildlife Rehabilitation and Release, she is now unable to fly properly. She came to Effie Yeaw Nature Center in 2018. Grosbeak's are often seen in California's Central Valley in spring and summer. They prefer a habitat containing tall trees and rich understory which Sacramento certainly provides. If you have used sunflower seeds in your bird feeder, you have likely had a few of these attractive songbirds visit!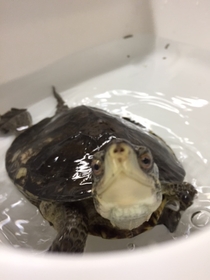 Clem, the Western Pond Turtle
Clem came to us as an egg! In June of 2007, seven turtle eggs were brought to the Effie Yeaw Nature Center by a volunteer from Sacramento County Animal Care. The eggs were reported to be western pond turtle eggs, laid by a turtle that had since been released. On Friday, September 28, two hatchlings were discovered in our makeshift incubator! In later weeks, two more turtles hatched. The Nature Center did not have room to house 5 pond turtles, so four turtles were taken to the U.C. Davis Department of Herpetology where they are being housed with other turtles and will provide students with the opportunity to observe and document their growth, health and behavior. The remaining turtle was named Clem and he stayed here at the Nature Center.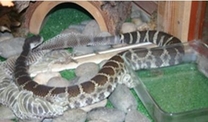 Natoma, the Northern Pacific Rattlesnake
Natoma was about a year old when she came to us in March of 2012. Her mother had been removed from a homeowner's property by an animal facility in Valley Springs. Shortly after being rescued the mother gave birth to Natoma and her siblings. Rattlesnakes are one of the few snakes that give live birth. Because she was born in captivity, it would be illegal to release Natoma into the wild according to Fish and Wildlife regulations. She has become a great educational snake as she is kept in the lobby in a specially secured enclosure for all to see and can be compared to the native non-venomous snakes in nearby enclosures. Natoma was recently weighed and measured and she was found to be our heaviest, if not the longest, snake on our premises. She enjoys the dead mouse that she is fed once a week.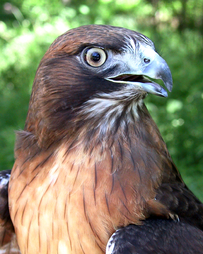 Tanner, the Red-tailed Hawk
Tanner passed away in June 2018 after a long life at the Nature Center. During Tanner's 20 years here at the Nature Center, he won over many hearts wih his soft brown eyes and wide range of vocalizations. He will be missed tremendously by staff, volunteers and visitors.