Spring Gala & Auction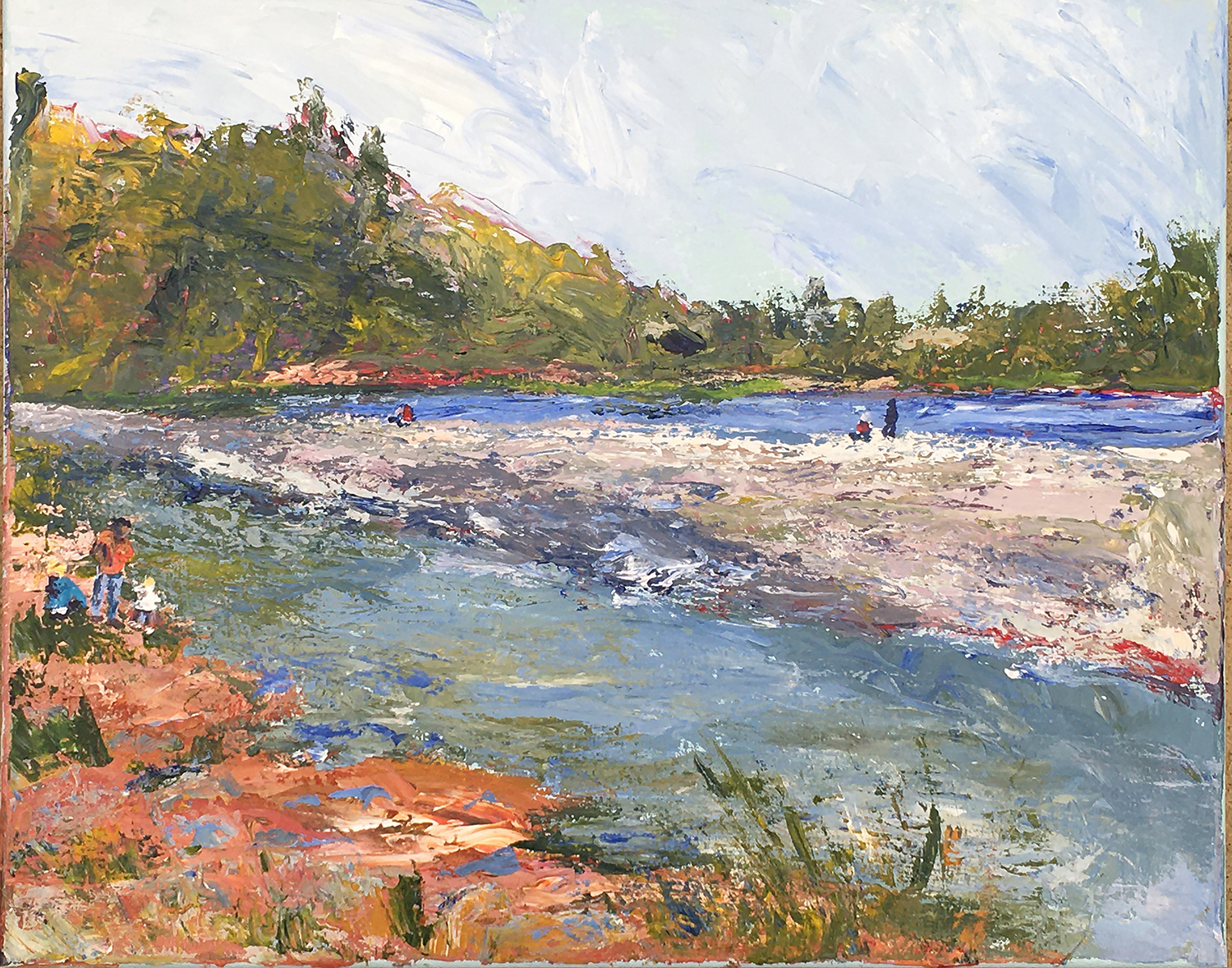 June 13, 2020
"Social Distancing at EYNC" by Susan Bernard Webb
This year's Spring Gala and Auction has been transformed into a virtual live stream event with both live and silent auctions of experiences and juried art featuring creative interpretations of the local natural world.
Presented by Effie Yeaw Nature Center and the Sacramento Fine Arts Center (SFAC) the Annual Gala and Auction brings together philanthropists, artists, and nature-lovers for what has become the Nature Center's biggest fundraiser of the year.
The live stream auction features regional television and radio personality, Kitty O'Neal, and spirited auctioneer, Keith McLane. You may also come across a few of the Nature Center's wildest personalities, like Echo the Great Horned Owl or Wek-Wek the Peregrine Falcon. Bidding on the silent auction will begins June 6th
Be sure to tune in to our emails and social media to stay up to date on Gala registration and updates.

Saturday, June 6th
Silent Auction Bidding Begins

Saturday, June 13th
Live Stream Event
5:30 - 6pm Tech check and pre-party with our animal ambassadors!
6pm - 7pm Virtual Live Auction and Fund-a-Need
Pre-register to receive important updates and announcements

FREE Registration Coming Soon!
New to Online Auctions? Find out what to expect.
Art Show Judges

Gwen Amos
Gwen Amos has a Bachelor of Fine Arts in Graphic Design with a minor in Industrial Design from Kansas City Art Institute. Gwen is principal of Gwen Amos Design in Sacramento, also known as Unicorn Communications. Along with her University work, she is a founding board member of the Sacramento Consortium of Art & Design Educators and an instructor of graphic design at UC Santa Cruz and UC Berkeley Extensions.
Ronald Peetz
Ron was Born in Pendleton, Oregon and moved to Sacramento when still in grade school. In local schools he gained a real interest in making art. This interest led him to attend American River College and then on to graduate from California State University at Sacramento with a teaching credential. After graduating Ron was hired to teach art the San Juan Unified School District until his retirement. Today, he continues to work in one of his two art studios built on his property in the rural country side outside of Lincoln. A founding member of Axis Gallery in Sacramento, Ron is known for his conceptual and surrealistic artwork that uses humor and wit to make commentary and observations on the human condition. His exhibitions include: 1616 artspace gallery, b. sakata garo, Sacramento City College, American River College, CSUS, Axis Gallery, and Crocker Museum.
Honorary Chairs
Allan Davis and Susan Pallotta-Davis
Combined, my wife Sue and I have lived in the Carmichael for over 75 years. I have been in real estate development for most of my life. Developing Milagro Center was my current vision to help beautify Carmichael, but it is being met with many challenges during this Pandemic. I thank all of you in the area who are currently supporting all the restaurants at Milagro. My wife recently retired after working 29 years for AT&T/Telecommunications and is currently helping me manage Milagro Centre. I also have been involved in the antique and art business for many years. Our favorite pastimes are traveling and golf. We are members of Del Paso County Club and Rancho Murieta, where I have been involved in the commercial and residential development there. We also enjoy the outdoors, spending time gardening and enjoying all that Ancil Hoffman has to offer. Before this Coronavirus, we spend a lot of time with family. I have two sons, who live out of the area, but I enjoy Facetiming with them and my wonderful grandson. Sue has four children and six grandchildren. Together we have a French Bulldog and a Yorkie!
Auctioneer
Keith McLane
We are excited to welcome auctioneer Keith McLane, with KLM Auctions. Keith is one of the country's preeminent fundraising auctioneers and special appeal/fund-a-need experts and the founder of KLM Auctions. Since 1995, he has specialized in organizing and conducting world-class charity and fundraising auctions.
Emcee
Kitty O'Neal
Kitty O'Neal anchors the highly rated and award winning KFBK Afternoon News from 4 to 7 pm, a show she has hosted for over 25 years. She has had many coveted news assignments including covering a Presidential inauguration, the Grammy Awards, and 25 Academy Award ceremonies. In her tenure at the station she has served in various capacities including news director for the former KGBY and producer of talk shows on KFBK. She is also a commercial voiceover talent and is the spokesperson for several local businesses.
Kitty's television credits include three years on KOVR 13 as entertainment reporter and host of the weekly real estate show Home TV, which ran for ten years. She has also appeared in many commercials, videos and national programs, including a CBS TV miniseries and the A&E Channel's Biography.

Kitty donates much of her time and talent to countless community events and charitable organizations and also serves on the boards of The California Museum and The Salvation Army, local chapter.

Additionally, Kitty has been featured in numerous articles for local newspapers and publications, has appeared three times on the cover of Sacramento Magazine, and was included in Sacramento Magazine's "300", Most Powerful Business Leaders in Sacramento". The readers of the publication have voted Kitty the Best Afternoon Drive Radio Personality in Sacramento several years in a row.

She is married to Kurt Spataro, an Executive Chef and Restaurateur and are partners in several Sacramento area restaurants.They play in an original rock band called Skyler's Pool in various area venues.
Online auctions not your thing? You can support the Nature Center by making a donation today.