Sandhill Crane New Mexico Adventure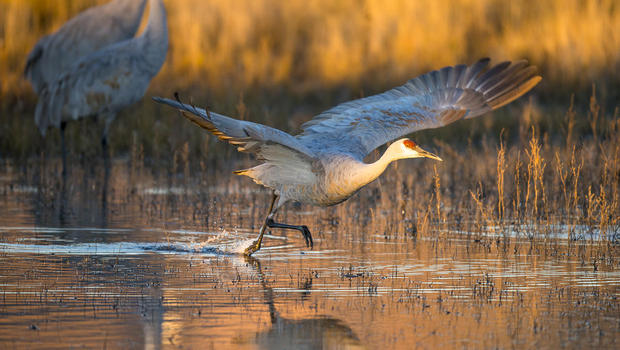 November 15, 2019
November 15-17, 2019
You won't want to miss this educational adventure! Each year, the Sandhill Cranes return to Bosque del Apache Natural Wildlife Refuge for the winter in a spectacular migratory event. You have the opportunity to experience this amazing process in a special trip to New Mexico with wildlife expert Paul Tebbel! A portion of the proceeds benefit the Nature Center and ARNHA.
Registration is Now Open!
To register contact Stuffed Duffel at danilo@stuffedduffel.com or by phone at (510) 213-1194. Limited space, so be sure to purchase your trip early.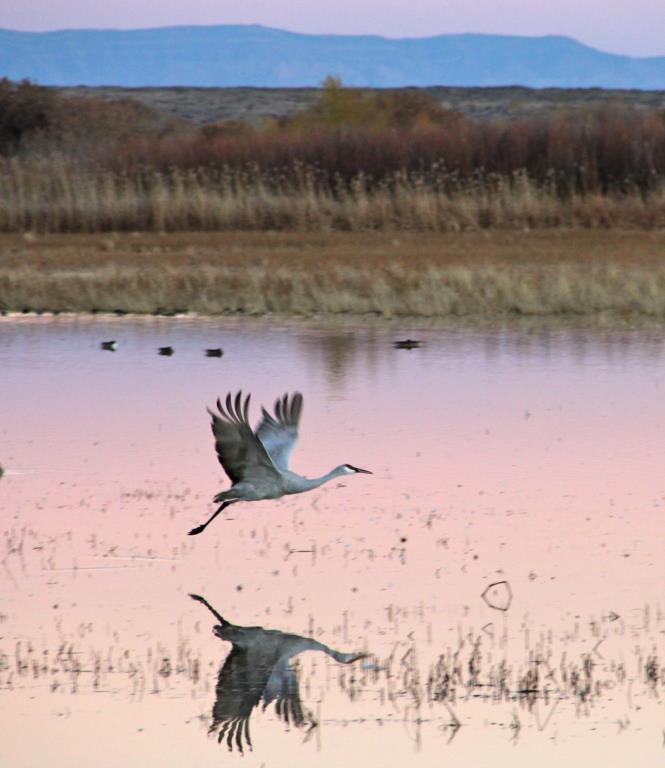 The vast majority of North America's population of Sandhill Cranes spend the winter in Texas and New Mexico. Since cranes are tied to wetlands (they spend the night standing in shallow wetlands), they must find spots with the right habitat. The Rio Grande River, which flows north to south through New Mexico, is perfect for cranes. In the 1930's, the US Government established the Bosque del Apache National Wildlife Refuge (BDA), to divert Rio Grande water to create seasonal wetlands for cranes and other waterfowl. Skip forward 90 years and visit BDA's 1,100 acres of managed wetlands between November and February and you can view over 10,000 Sandhill Cranes plus 50,000 light geese (combination of Snow Geese and Ross's Geese).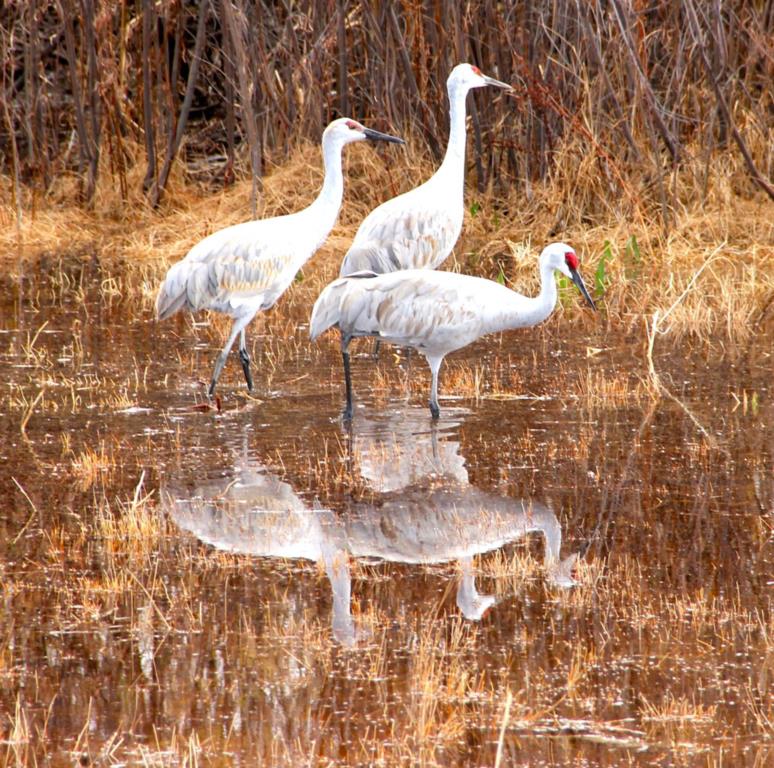 What makes Bosque del Apache the best is a network of roads that circle the refuge providing unparalleled views of cranes and geese – and many other wildlife species. The birds seem to know they are safe within the refuge and getting less than 10 yards from the geese and cranes is not unusual. It is a photographer's paradise! A major wildlife festival, held the week before Thanksgiving, boosts sponsorships by many major wildlife photo companies, which offer classes taught by their top reps. It is not usual to see over 100 photographers with massive telephoto lens surrounding the best spots. Part of the attraction is the backdrop as fall in the grasslands of New Mexico includes more shades of brown than you ever thought existed. The weather is usually pleasant and if you like green chiles, well, you might think you've died and gone to heaven!
The trip being offered by ARNHA is the weekend prior to the festival so the birds will be present but not the large crowds of viewers. Your guide, Paul Tebbel, has presented at the festival for 24 years so he knows the refuge, the birds and the best places for viewing. His 40+ years of working of studying cranes and crane behavior will make this trip truly memorable. Join Paul and other ARNHA members for a wonderful 3 days in New Mexico in November 2019. Spaces are limited to 14.

Proposed itinerary:
Day 1: Fly from Sacramento to Albuquerque (please arrive no later than 1PM) and transfer to Bosque del Apache Natural Wildlife Refuge to watch the Sandhill Cranes return at sunset to the wetlands where they roost for the night. Drive to the town of Socorro for overnight. Group dinner.
Day 2: Early morning wake up for sunrise view of the cranes flying out from the wetlands (coffee will be provided ). After returning to town for a warm breakfast, we head south of the refuge to explore one of Ted Turner's largest ranches. With over 300,000 acres the ARMENDARIS RANCH is a unique property with an abundance of wildlife, including desert bighorn sheep. We are granted a special permit to tour the ranch and enjoy a picnic lunch prepare by their staff. After lunch, we travel back to the refuge to watch the cranes fly back to the wetland to roost. Group dinner.
Day 3: Wake up early one more time and back to the refuge for one last chance to see the cranes before driving back to Albuquerque for your flight back home (please do not schedule your flight before 12 noon).
Download the trip summary flyer.
Trip cost: $950 per person/double occupancy (add additional $350 for single occupancy)
Cost includes:
Ground transportation while in New Mexico
Two nights double occupancy in a hotel in Socorro, NM
Two breakfasts and two dinners
Expert presentations by Paul Tebbel
Tour of Armendaris Ranch with picnic lunch
Registration is Now Open!
To register contact Stuffed Duffel at danilo@stuffedduffel.com or by phone at (510) 213-1194. Only14 spaces available, so be sure to purchase your trip early.
About Sandhill Cranes
Grus canadensis
Sandhill cranes move among several areas throughout the day to feed, rest, and socialize. Social behavior includes at least ten different types of calls, various threatening postures, and elaborate dances for everything from joy to courtship.
See these amazing birds in action on the Bosque del Apache website.