Upcoming programs are listed below. To ensure you receive notification about future Nature of Things programs, sign up for our e-newsletter.
Conflicts and Coexistence with Grizzlies and Black Bears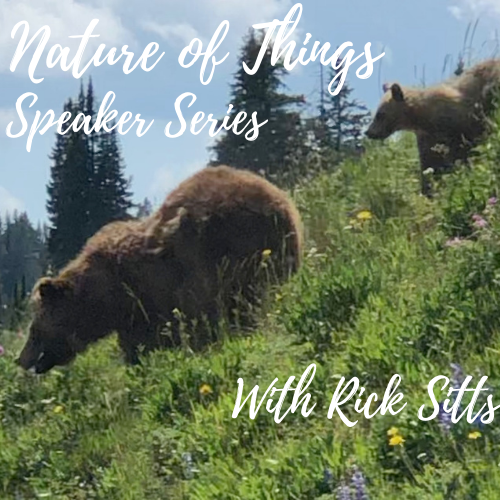 October 27, 2021
Conflicts and Coexistence with Grizzlies & Black Bears with Rick Sitts
Two special events to learn about these incredible creatures!
Lecture Night: Grizzlies: Conflicts and Coexistence
Wednesday, October 27th | 6:30 pm - 8:00 pm at the Effie Yeaw Nature Center
Student Activity Day: Grizzly bear ID, flag, omnivory and coexistence elsewhere
Saturday, October 30th | 9:00 am - 11:30 am at the Effie Yeaw Nature Center
Masks will be required during each program and social distancing will be in place whenever possible.
----
Lecture - Grizzlies: Conflicts and Coexistence
An Evening Lecture for Adults (Ages 12+)

Ever wonder how the grizzly bear got on the California state flag? Why did they disappear in California?

Explore the life and history of the grizzly bear, their reputation with people, and their ultimate extinction in California. Discover how people in other parts of U.S. coexist with these powerful brown bears. Contrast and compare California's black bears with the grizzly, and discuss bear conflict management today.
What's next? Learn about long-term consideration of potential reintroduction of grizzlies to Washington's Northern Cascades, and possibly closer to home like California!
*This lecture offers two options: in-person at the Effie Yeaw Nature Center OR virtual via Zoom. Please choose one.
In-Person Lecture (Wednesday 10/27 6:30 pm - 8:00 pm)
Note ARNHA Member Discount on Dropdown Menu
Virtual Lecture (same date/time as in-person: Wed 10/27 6:30 pm - 8:00 pm)
Note ARNHA Member Discount on Dropdown Menu
---
Student Activity Day: A Hands-on Learning Experience for Kids & Families (Grade 2+)
Activity Day requires parent/guardian involvement.
Join EYNC and ecologist Rick Sitts in a student-oriented family program about grizzly bears! Participate with your children in a variety of hands-on, interactive stations that explore the life and history of grizzly bears. Compare your height with a grizzly and black bear, listen to stories about the grizzly bear's astonishing strength and resistance, examine what they eat and their important role in the food web, and discover as well as discuss how people can coexist with black bears and grizzly bears where they still live.
Program consists of 4 hands-on activities!

Who's the main character? - Identify and measure grizzly and black bears - Students learn characteristics for telling black and grizzly bears apart and use these characteristics to identify the species of bear on the California flag. Students act as field scientists by measuring and comparing claw lengths of real grizzly and black bear specimens, heights of life-size wooden models of black and grizzly bears, and their own heights versus the bears.
Setting? - Grizzlies on the CA flag and along Cache Creek. Students use stories and videos that depict the astonishing strength and resistance of grizzly bears, to understand why the grizzly was chosen to be placed on the flag. Students then learn how to confirm that the grizzly inhabited California, and where. They then consider how likely it is that the grizzly lived where the students now live based on early stories of where grizzlies lived.
What's it doing there? Role in the Ecosystem - Fueling the grizzly population - What did the grizzly eat? - Grizzly Bear as Omnivore/Top of the Food Web - Students learn about teeth types and uses for herbivores and carnivores using skulls and jaws, and apply this to figuring out and justifying what types of foods grizzly bears probably ate and where grizzlies were in the food web.
Persisting today and tomorrow - GB Recovery and Coexistence with black bears in California and with grizzlies elsewhere - Students will interpret evidence about how Californians and wild black bears are learning to coexist. Students then consider exhibits on how people coexist with grizzlies in the northern Rockies and around the northern Hemisphere.
*This program is tailored for students 2nd grade and up. A parent or guardian is required to accompany the student/students. One (1) ticket at the $15/$20 value is good for one (1) parent/guardian and one (1) child. If you have more than one child attending, please add them to your transaction by adding the "+1 Child or Adult" at the $8/$10 level.
Student Activity Day
Note ARNHA Member Discount on Dropdown Menu
---
About the Speaker
In California, he volunteers with Cache Creek Conservancy, in Yolo County, California. There, he serves as a board member, and develops and teaches lessons on various aspects of grizzlies.
Rick has a PhD in Ecology from UC Davis, and spent his career in northern California working in water agencies and private companies. He focused on aquatic and riparian habitat restoration, recovery of threatened and endangered fish species, water rights, and electric power generation and transmission. He retired in 2010.

As he neared retirement, he spent more time near Yellowstone National Park, and developed an interest in ecology in and around the Park. He now spends warmer months there, and served as a board member of the Teton Regional Land Trust, near Grand Teton National Park, Idaho. He also volunteered with Idaho Master Naturalists, and at the Grizzly and Wolf Discovery Center in Montana. But his focus is on grizzly bear conservation. He's also encountered grizzlies on the trail, and witnessed a grizzly bear attack. He lives in the Grizzly Bear Recovery Zone around Yellowstone, with grizzlies and wolves traveling close by.

Understand the nature of the grizzlies that inhabited once California and how human coexist with them in other parts of the United States. Discover methods to solve conflicts with bear problems and how these methods were successful.
---
If you have any questions please contact Sara at SaraT@sacnaturecenter.net or call (916)489-4918.